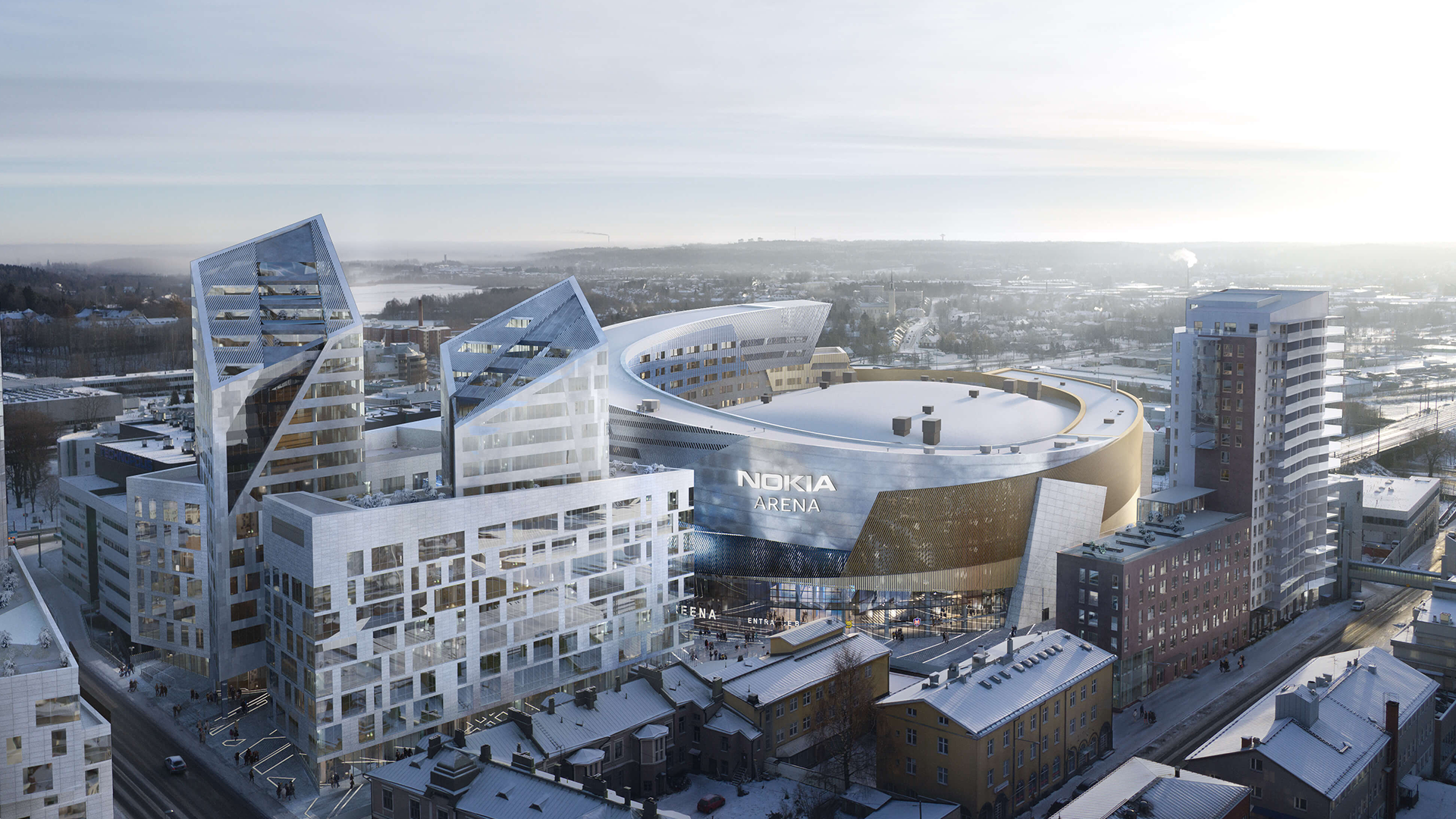 UROS LIVE Arena to be completed in December 2021
The completion schedule of the UROS LIVE Arena has been confirmed: the experience arena, which embodies the style of the celebrated American architect Daniel Libeskind, will be completed in the heart of Tampere in December 2021. The schedule of the first events to be held at the arena will be specified at a later date.
Europe's first multi-purpose arena located in the heart of the city will be completed in the Tampere Deck area in December 2021. The partner network operating at the UROS LIVE arena will also be able start their business operations on the arena premises at that time. The UROS LIVE Arena will be the home venue for both Tampere ice hockey league teams, Tappara and Ilves, and the extensive partner network working in the arena will include the hotel operator Lapland Hotels, restaurant operator NoHo Partners, Veikkaus Casino and Lippu.fi.
"It's great that the completion schedule has now been confirmed, not only for the teams, our partners and the event organisers, but it's also great news for all the people of Tampere. The arena will be full of life every day of the year, even when there are no events on, and it will be a living room for the people of Tampere," rejoices Marko Hurme, CEO of UROS LIVE Arena.
Top ice hockey in a world-class venue
Tampere's ice hockey teams, Tappara and Ilves, are among the several event organisers who are looking forward to moving to their new home arena.
"Of course, the new home arena is a really important for us. The conditions and features are absolutely top notch, both for the players and spectators; there has never been an arena this great in Finland. We'll turn a new page in Tappara's history when the UROS LIVE Arena provides us with world-class conditions," says Mika Aro, Tappara's CEO.
"It'll be great to play at the UROS LIVE Arena, the best venue in Finland. This is a great opportunity not only for the team, but also for our supporters and partners. The game experience and the arena's easy access in the heart of the city will take us to a whole new level," Ilves CEO Risto Jalo continues.
The UROS LIVE Arena will be inaugurated in December 2021. Some schedules for the experience arena's events will be announced in autumn 2020. The UROS LIVE Arena will be the main venue for the World Ice Hockey Championships in May 2022.