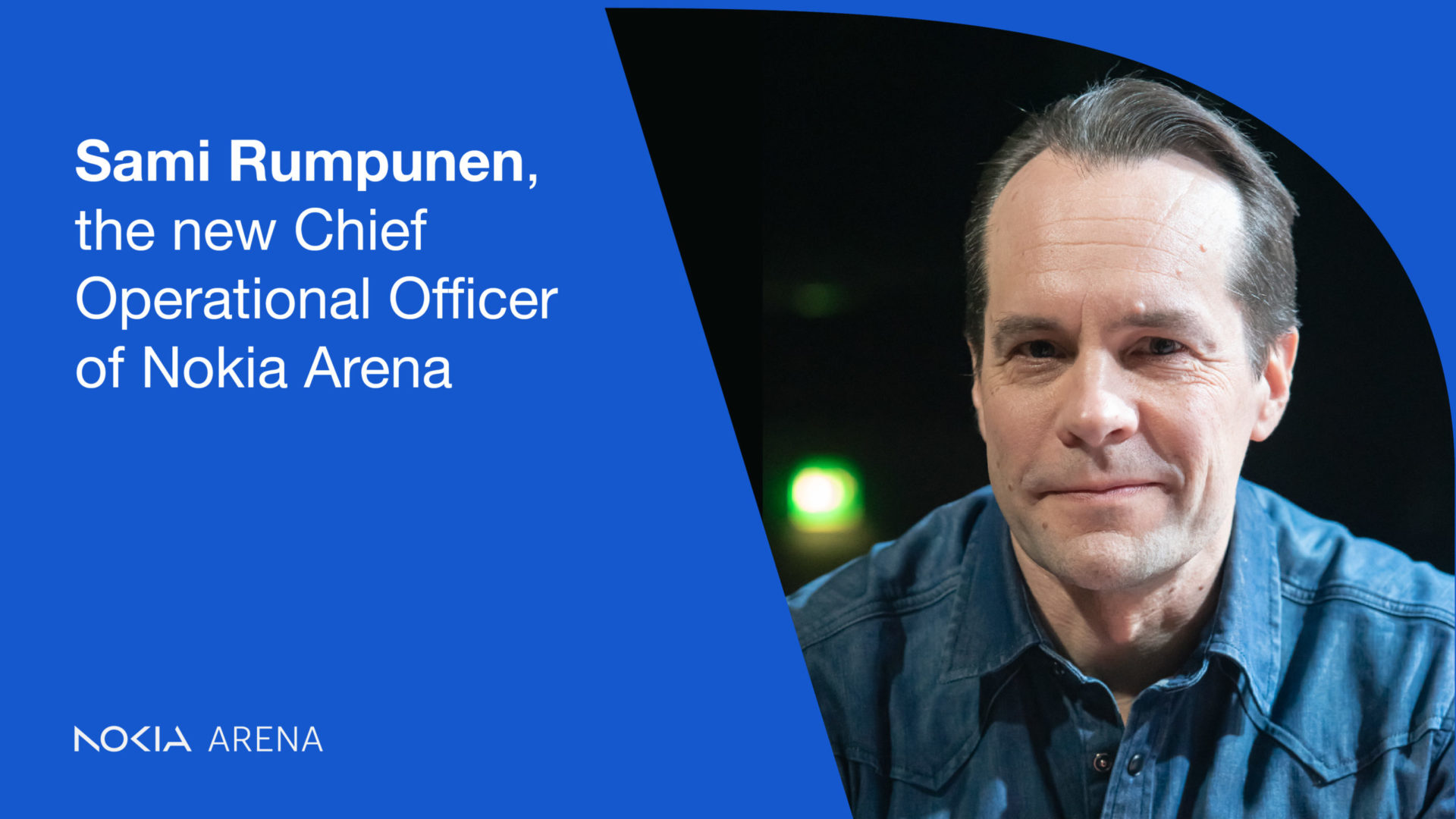 Sami Rumpunen, the new Chief Operational Officer of Nokia Arena, brings a culture of enablement
Sami Rumpunen started his work as Nokia Arena's Chief Operational Officer on March 6th, 2023. Rumpunen transferred to the arena from Provinssi Festival Director's duties and he has lived and breathed the event industry for almost two decades.
Prior to the final immersion in the event world, Rumpunen pursued an academic career and qualified as a Ph.D. in economics at the University of Vaasa. Already in Vaasa during his studies, he organized club gigs and concerts with his friends.
– Around 2005, the operation of the city's music association was slowing down and we noticed that if you want to go see a gig, you'd better organize it yourself. So we did that. Volume ry was founded, and in the name of the association, I ended up booking almost 300 performers in almost every space in Vaasa where it was possible to place a performer somehow, says Rumpunen.

Utilizing the entire competence repertoire
After a good while in the Provinssi Festival's board, being involved in the event workgroup and finally working as the Festival Director, Rumpunen started to dream about a place where he could combine his expertise in economics and marketing with his passion for creating excellent event settings, familiar from organizing festivals. A place like this was found in one of Finland's vantage positions, Nokia Arena.
– Feels great to be part of this community. I have immensely enjoyed the festival world, where people have a very loving approach to their work. However, I wanted to pursue a post, where I could take advantage of all my expertise, to learn new things and perhaps to step outside my own comfort zone a little.
In Nokia Arena, Rumpunen is in charge of the operational activities.
– I make sure on my behalf that the sales and the production have everything they need in order to obtain the best outcome. From an international perspective, the setting is fully comparable, viewing anywhere in the world, and the arena's central location both in Tampere and nationally is unique, says Rumpunen.
From network encounters to building culture
The expectations for the first days and weeks are clear for both Rumpunen and his family.
– My kids are already excitedly adding games and concerts in their schedules. But personally, I hope I have a chance to get to know as many parties as possible; those with whom we organize events and those whose everyday lives are affected by the arena; taking over the network and just the regular hold of the daily life.
In the long run, Rumpunen wants to develop the arena as an environment, in which event planners, service providers, performers, teams and arena personnel succeed and feel well in every aspect.
– The audience creates the mood and the atmosphere to the event. Our responsibility is to enable the optimal circumstances for this. This culture and the love for it is what I want to bring in, so that the arena welcomes with an approachable community that is experienced as warm, trustworthy and professional.
On behalf of the entire arena community, a warm welcome to Sami!

Photo: Eetu Lahti